CUSTOM PRINTED 6" WOOD VENEER RULERS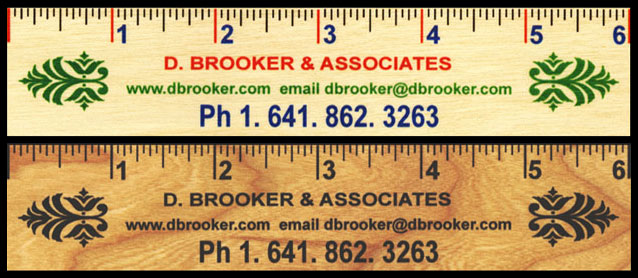 These 6" x 1 1/4" rulers have an area for customizing approximately 5 1/2" X 3/4".
These are made by laminating the printed wood veneer to a thicker wood veneer.
These handy rulers can easily be carried in a shirt pocket or used as a bookmark.
There is always a one time setup/design fee that will be quoted for every design.
I can post the design on a private webpage for your approval before it is printed.
I can also make these rulers using curly or birdseye maple for an additional cost.
I offer full color printing on maple or black on cherry.  100 is the minimum order.
Cost per ruler is $.70 each for up 250 rulers or $.60 each for 300 or more for black.
Add $.10 per ruler for full color printing.

Due to health problems my business
is CLOSED until further notice!

If you want to supply files for printing they must be a .tif of 600 dpi for PC or Corel Draw.
If you cannot provide files in the formats as stated please contact me for a design quote.

For a sample ruler you must send a self addressed, stamped, "envelope" and note.



---
ORDERING - MasterCard ~ VISA ~ PayPal accepted - Please call for credit card orders.
We prefer to ship by Priority US mail. Prices are subject to change and do not include shipping.
Shipping is quoted upon ordering. NO OVERSEAS ORDERS accepted!

Business hours are M - F, 8 to 5 CST.
Click here to email Dennis Brooker
- Phone 1. 641. 862. 3263
---
Click on these links to view our additional offerings.

**NEW** LENTICULAR BUSINESS CARDS & RULERS

WOOD BUSINESS CARDS & LABELS

CLOCKS WITH CUSTOM PRINTED VENEER FACES

CUSTOM JOURNALS WITH PRINTED COVERS

FABRIC BUSINESS CARDS

HOLOGRAPHIC BACKGROUND BUSINESS CARDS

LASER PRINTABLE WOOD VENEER

SMartGRAIN(TM) INKJET PRINTABLE WOOD VENEERS



---



D. Brooker & Associates, 55858 - 260th Ave., Chariton, Iowa USA
ALL PAGES, INFORMATION AND IMAGES ARE © COPYRIGHT - DENNIS BROOKER  2001- 2010
RETURN TO HOME PAGE